10th November 2023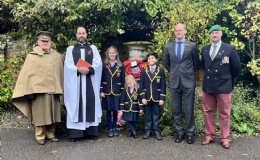 We began Remembrance week with a visit from one of our parents, Mr Thomas, who kindly spoke to the children about his experiences in the Army.
He also spoke about the role of the military in today's world and the children were gripped by all that he had to say. We had a visit from Sky New Middle East Correspondent, Alistair Bunkall, who gave Year 6 a fascinating talk on the Israel/Hamas conflict and with his daughter shared what it is like to live in Jerusalem. It is so important that the children are aware of what is happening in the world around them and have an understanding of the sacrifices that others make for them across the world both today and in the past.
On Wednesday, a number of children attended nutrition workshops with Dr Pippa, a Registered Nutritionist, where they had great fun learning more about healthy eating and identifying food types in a very interactive way. Year 4 fascinating time learning all about the Saxons yesterday with the visit of a historical actor, while Year 5 were joined in their Art lessons for a workshop by artist and parent, Mrs Forbes.
It was lovely to see so many parents at the Remembrance Service this morning, which was a very moving occasion and many thanks to those who were able to join us. As has become tradition, we were joined by Father Jeremy, who led the prayers and local historian, Mike Willoughby, who represented those local residents who gave their lives in the First and Second World Wars. Mr Lamb played The Last Post to mark the two-minute silence and Ottilie and Isaac joined him to play 'Abide with me'. Zach, Teklė, Bella and Lucas in Year 6 spoke and recited poetry, where they were also joined by Mrs Fletcher and the Junior and Chamber choirs sang as the wreaths were processed up to the Urn, where they were laid. I was most impressed by the behaviour of the children who, following the assembly on Monday, now have an enhanced understanding of the role that the military play in today's world.
On Sunday, Zach and Teklė will be joining me to lay a wreath on behalf of the Rupert House community at the steps of the Town Hall as part of the Henley Remembrance Service. The service starts at 10.50am in the Square and everyone is welcome to attend.
Centenary
We now have a calendar of the Centenary events taking place throughout 2024 for parents, staff and alumni. Please do take a look here and save the dates! We have a separate calendar of events for pupils which can be viewed here.
Also, thank you to everyone for your suggestions for Centenary merchandise. We have finalised some fantastic items for both adults and children (including our very own Rupert House gin!), which you can view and order here. The deadline for placing orders is 11th December. These items will be ready for collection in January 2024.
The week ahead
We have another busy week planned next week which starts with the opening of the climbing wall in Assembly on Monday by local adventurer, Garth Miller. It is also Odd Socks Day which is one of the activities we have planned for World Kindness Week and Anti-bullying Week. Children are encouraged to wear odd socks to school with their winter uniform to celebrate the fact that we are each unique.
A reminder that the Year 4 to 6 Parents Evenings are on Tuesday (Year 4 and 6) and Wednesday (Year 5) next week. Following a technical error, the slots for Mrs Light are now available to book via My School Portal.
On Friday it is Children In Need and a non-uniform day. Please see the letter below for more details on what the children might like to wear. There will be a cake and Christmas jumper sale in the afternoon organised by FoRH, details of which are also below.
Please see the calendar at the bottom of this newsletter for details of all events happening next week.
Head's coffee morning
On Wednesday 15th November at 8.30am we have Elaine Purves, Head of Queen Anne's School coming in for our next 'Meet the Head' coffee morning. Please sign up using this form if you would like to attend.
Christmas donations
The FoRH are busy organising the Christmas fair which takes place on 14th December. The fair will run during the afternoon and the children will visit the stalls in their class groups. FoRH will be asking parents to bring in donations for the fair week commencing 20th November. Required items include toys, games and books (all in new or excellent condition) so please do start having a look around the house to see what you may have to donate.
Also, please continue to bring in Christmas clothing (jumpers, t-shirts, pyjamas, socks, hats, gloves etc) for the sale on 17th November. There is a large white and black spotty bag in the hallway for donations which can be for adults or children of any age. All proceeds will go to The Chiltern Centre.
Christmas Shoebox Appeal
Every year, the charity Samaritan's Purse sends shoeboxes full of gifts all over the world to children who otherwise would not receive anything at Christmas. If you would like to give hope and joy to a child who is less fortunate this Christmas, please consider filling a shoebox with some goodies for a child. You might go shopping with your child for them to choose what they would want to give to a girl or boy who has very little. Here is the website link with the 3 steps involved in sending a box: gift suggestions, how to print the label and donate for the shipping. Please drop the boxes in the school hallway next week (latest 17th November). The boxes will be delivered to a collection point on Monday 20th November to be shipped.
Parent Choir
Following the success and enjoyment of the parent choir who sang with the children at the Carol Service last year, we are planning a few rehearsals in preparation for this Christmas. Little to no singing experience is required and the more the merrier. Please do fill in this brief form with the dates you are available to rehearse. I am hoping a number of the fathers will be willing to come and join me in the back row!
I hope you have a restful weekend.
Best wishes,
Nick Armitage