Head's Welcome
Welcome to Rupert House, a thriving co-educational independent school for children aged 3-11 and many thanks for taking the time to explore our website. I hope that in doing so, you will gain a flavour of the exciting teaching and learning environment that exists behind the iconic big blue front door.
The energy and enthusiasm our pupils bring to the school is wonderful to observe. It is testament to the passionate and inspirational teaching that the children come into school with such excitement each morning.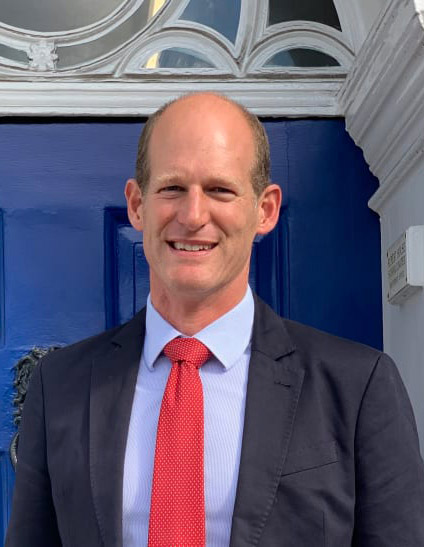 Nick Armitage
The warm, family-feel to the school is regularly commented upon and it is something that we as a family experienced in our very first interactions with the pupils, staff and fellow parents when we arrived at Rupert House.
Pass through the big blue front door and you enter into an Aladdin's cave of classrooms, music rooms, a well-resourced ICT suite, the Hall and lovely outdoor spaces including an Astro turf pitch and adventure playground for the children to burn off some of their energy. Walk a few hundred yards down the Fairmile and you will find our sports pitches and pavilion stretching into open countryside and woodland for our Forest school. Our location in the heart of Henley means that we are just a stone's throw away from the facilities and communities that make Henley-on-Thames such a vibrant town. We have close links with Henley Hawks Rugby club with whom we share facilities and have a joint development programme with Henley cricket club. Our children enjoy putting on school productions in the Kenton Theatre - a community asset steeped in tradition whose boards have been trodden by many well-known actors and performers. We make good use of Henley's town hall for our musical productions and the Parish Church for services on occasions such as Harvest Festival and at Christmas. All of this brings us closer to the Henley community that we serve and is part of our ongoing "Rupert House Loves Henley" celebration.
This connection with the Henley community means that our children enthusiastically choose to support many local charitable causes. They appreciate how fortunate they are to attend the school and are keen to help others where they can. The children are given the skills and attitudes to learn who they are and know what they stand for living out our values of Courage, Creativity, Respect and Resilience underpinned by kindness. Courage to be brave in their learning and a willingness to step out of their 'comfort zone'. Creativity not just in the creative arts, but in terms of finding a solution to problems and issues. A respect for and understanding of other people's perspectives, beliefs and values. Last, but arguably most important of all, resilience: the determination not to give up when faced with a challenge. This growth mindset, the capacity for thinking 'I can't do this…yet', is the most important trait our pupils can leave us with and enables them to stand tall at their senior schools and beyond.
Rupert House children are offered places at a wide range of Independent, State and Grammar Schools and we believe in guiding parents towards the right school for the right child. In the past few years our pupils have been offered places at the following schools: Abingdon, The Abbey, Claires Court, Cranford House, Downe House, Headington, St Helen and St Katharine, Kendrick, Lambrook, Leighton Park, Luckley House, Pangbourne, The Oratory, Queen Anne's Caversham, Reading Blue Coat, Tudor Hall, Wellington College and Sir William Borlase's. They are often successful in attaining scholarships and awards, with 15 of these received last year alone.
We look forward to meeting you for a tour of the school, where you will meet a number of our passionate staff and learn more about our happy, vibrant, purposeful community.