Nutrition workshops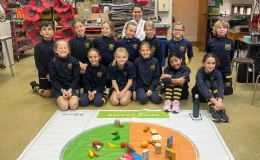 Dr Pippa, Accent Catering's in-house Nutritionist, and her assistant, Georgia, visited today to run a Nutrition workshop.
The children enjoyed a hands-on session all about the 'Eatwell Guide' and learned about different food groups and their benefits. They talked about the benefits of a healthy diet and had fun sorting different foods into groups.
The team will be back later in the school year to ensure all classes have had the opportunity to experience the workshop.
Thank you, Dr Pippa, and Accent Catering for another fun and interactive learning experience!