Stepping back into Saxon times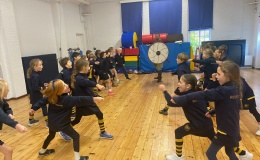 Year 4 had a great Saxon day led by group leader Alfric from Portals to the Past.
The day started in the hall with a brief history of the Saxons. The children participated in role-play, acting out key invasions and battles. They also took part in a quiz, moving around the hall searching for key facts.
After break time, they played Tafl (a board game of foxes and hares), acted out an Anglo-Saxon burial for a king and had the opportunity to handle artefacts including chain mail, money, flint & steel and cooking equipment.
In the afternoon they were back in the hall to look at weapons and armour. The children learned about battles and combat training.
The day came to a close with Anglo-Saxon storytelling.