Year 6 trip to Henley Regatta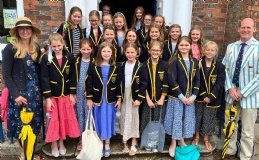 Today we treated all of Year 6 to a trip to the Regatta, which they enjoyed enormously, despite the best efforts of the weather.
The children dressed up in keeping with the requirements of the Stewards' Enclosure, topped off with their Rupert House blazers, which were very much in keeping with those worn by the rowers.
We visited Leander Club and were given a tour of the whole building, including the squad room, the fabulous library, the gym and the boat bays, where we cheered on the athletes as they boated for their races. The children learnt all about what it means to compete for the club and earn International honours, meeting and hearing from those who have done so as well as those who are aspiring to that level of achievement.
Following a visit to the Stewards' Enclosure, where they saw the silverware the rowers are competing for and enjoyed watching some of the racing from the comfort of the deck chairs, we joined a boat cruise along the course, before making our way back along the tow-path.
We stopped to cheer on Mrs Macartney's daughter, who made a winning start in a very talented young Henley Rowing Club quad, and then arrived back at school after a fascinating day which we hope the children will remember fondly.