Year 6 fly the school nest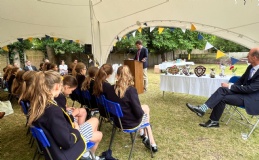 Today we said goodbye to our Year 6 group who will be heading off to their various senior schools in September.
Thank you to Mr Le Fleming from @theabbeyschoolreading for coming to speak to the pupils and their parents during our prize giving ceremony this afternoon, and for helping to present the prizes.

All the children have all done amazingly well and we wish them the best of luck in the next chapter of their lives. Do come back at visit!