Year 4 explore the Living Rainforest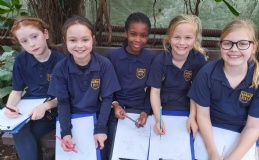 On Tuesday 15th March Year 4 went to The Living Rainforest in Newbury as part of their Geography topic on Rainforests.
They learned all about adaptations, and how plants and animals in the rainforest have adapted over time to live more successfully. Examples of these included poison dart frogs developing their blue colour to deter predators and snakes having very acidic stomachs in order to digest their prey more easily.
The children were wowed by all the animals they came across and, even though the elusive sloth did not make an appearance, it was an amazing day!