Year 3 Class Violin lessons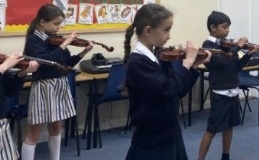 Our fantastic Violin teacher, Mrs Pedley, has just started teaching the Year 3 children Violin on a Tuesday morning. They will be having 4 'taster' sessions in groups so that they can learn the basics of the Violin and how to play a String instrument.
Group 1 have already learnt the names of the 4 strings and how to pluck them and are looking forward to learning some tunes over the coming weeks.