The Great School Run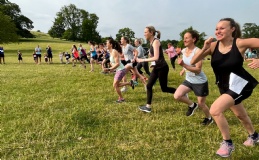 Around 250 children (and their grown-ups) from schools and nurseries across Henley took part in the first ever 'Great School Run' at Stonor Park on Saturday 18th June.
Hosted by Stonor Park and Rupert House School, the free charity event was comprised of a series of races broken down into year groups from Nursery (ages 3 and 4) to Secondary school pupils. The Nursery and Reception children ran 340m, Years 1 and 2 ran 780m, Years 3 and 4 ran 940m, and Years 5 and above ran 1850m. Each route took the runners through the beautiful, undulating grounds of Stonor Park. Donations were collected for Ukrainian 'Bright Kids Charity' and over £300 was raised for this very worthy cause.
The event began with the 'grown-up' races – the women heading off first, followed closely by the men. The hilly two-lap route was a challenge for even the fittest participants, but the friendly competition and support from the crowd helped keep the momentum (and the smiles!) going. The children's races followed, and the determination, resilience and sportsmanship shown by them all was incredible.
Certificates were given to every finisher, with special 1st, 2nd and 3rd place certificates presented by Mr Armitage, Head of Rupert House School, who, although unable to run at this event due to injury, is himself a keen runner and sportsperson.
Rupert House School would like to thank the Stonor family for welcoming them to their beautiful grounds, facilitating the online booking system and providing all logistical support. They would also like to thank Kevin Nutt (MBE) for his expert help with the planning, organisation and help on the day, Birte Hayes (a Rupert House parent) who took the event from idea to reality, with her meticulous planning and super organisation skills and all the other Rupert House parents, staff and volunteers who were critical in making The Great School Run possible.
Mr Armitage said of the event "I am full of admiration for all those who took part today and immensely grateful to everyone who volunteered their time to bring it to fruition. I was most impressed that so many of the parents were willing to take part and in doing so, were great role models for their children. Well done to every single one of the competitors and I hope to have a go myself next year!"
Planning for The Great School Run of Henley 2023 is already underway!