The Great School Run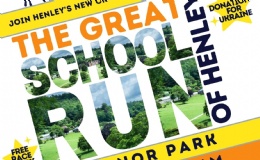 We are very excited to announce 'The Great School Run' that will take place for the first time on Saturday 18th June 2022 at Stonor Park from 9am.
This is an organised cross-country event for children aged 3 to 16 from across Henley-on-Thames. Each year group will run an appropriate distance for their age and there will be certificates for all finishers. There will also be a course for the grown-ups.
This promises to be a fun, family event for all ages that we put together with the vision of inspiring our children to be active and come together as a community. We're also hoping to raise a bit of money for Ukraine if you would like to bring some coins. 💙💛
Refreshments will be available on the day and all participants are eligible to book discounted entry to the wonderful Tumblestone Hollow adventure playground for after the event.
Families from all schools & nurseries local to the Henley area are invite to join. The more the merrier! Race entry is free but booking by 4th June essential! The link to book is here: https://stonor.digitickets.co.uk/category/41055
Race distances and further information is available on the website booking page.
Please do get in touch if you have any queries via office@ruperthouse.oxon.sch.uk
We can't wait to see you all on 18th June!