The day the dragons came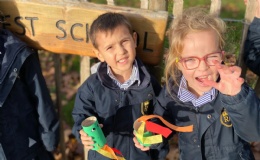 Year 1 went dragon hunting this afternoon!
Mr Armitage sent the children an important message saying that dragons had been seen at Forest School and an egg had been found on the Astro. They got their dragon hunting wellies on and headed over. At Forest School they found footprints that led to the dragon eggs. They created their own dragons and wrote a list of things they might need for their next hunt!
Dragons have even been spotted on CCTV around school!