Teams triumph at Henley Hockey Club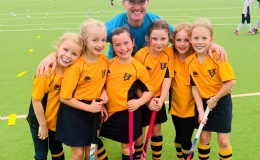 A number of Rupert House pupils played in hockey tournaments at the weekend, representing Henley Hockey Club.
Children from Years 3-6 attended a number of local hockey clubs on Sunday 1st October to play matches against neighbouring clubs including Newbury& Thatcham, Reading, Slough, Maidenhead and Marlow.
One of the U8 teams was made up entirely of Rupert House pupils, with matches umpired by RH parent, Mr Lamb. They won 3 games, drew 1 and lost 3.
All the children had a great time, and enjoyed the opportunity to develop and showcase their hockey skills!