Team Excelsioar get ready to row the Atlantic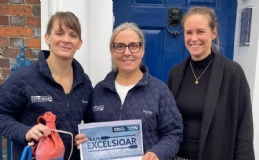 Would you like to row a boat 3,000 miles across the Atlantic with minimal supplies… in mid December?
That's exactly what Nicki and Rachel from Team Excelsioar are doing with their friend Caroline when they set off in just a week's time on the Talisker Whiskey Atlantic Challenge. Rowing from the Canary Islands to Antigua, the crew is excited and ready to take on the challenge.

They spoke to the children today about how our school values of Courage, Creativity, Respect and Resilience are completely relevant and key to their success. The children had all sorts of questions to ask them about their trip and are excited to follow their progress over the next couple of months. We look forward to hearing all about it when they get home.

The team are raising money for Thames Hospice and The Dash Charity. To find out more and make a donation please visit @teamexcelsioar | Linktree

Best of luck ladies!