Spring Prep Concert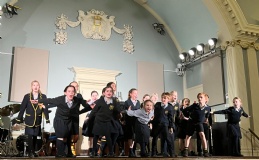 Last night was our annual Spring Prep Concert at Henley Town Hall where all pupils from Years 3 to 6 performed either individually or in groups.
All the children had a wonderful time singing their house music competition songs to the audience of parents who also enjoyed performances from the individual winners of the singing, piano and instrumentalist categories.
This year, we also had energetic performances from both the junior and senior jazz dance groups.
As always, it was a wonderful evening showcasing the incredible talent to be found among the Rupert House pupils.