Sports Day!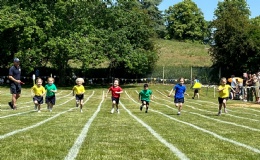 There's nothing like Sports Day to make it feel like summer is actually here!
Thank you to Ms Nicholson, Miss Findlay and the whole staff team for another fantastic Sports Day today.
All the children took part in their events in the right spirit and it was super to hear them cheering on their fellow House members. Thank you also to all the parents who came along to watch and especially to those who so bravely took part in the parent races too!
Well done to Everest for winning the overall House Cup this year. We hope everyone enjoyed the morning.