Science prize for Year 6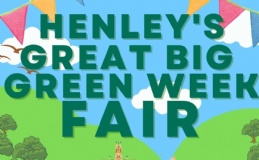 Well done to Miss Gibbon and our Year 6 pupils from the last academic year who have won a prize in the Greener Henley Science competition.
The Year 6 class entered Greener Henley's Environmental Science Challenge to show how important insects are. They made a really clever insect hotel full of scrolls of paper which contained facts and details about all the things they had discovered about bees and other pollinators, as well as a survey of the insects they found in our school grounds.
The Year 6 project will go in the exhibition of children's work at the "How important are Insects? Gallery" at Henley's Great Big Green Fair in Henley Market Place on Saturday 24th September from 10.00am to 4.00pm.
The judges were very impressed by the clever work submitted by Rupert House School and decided to give us an award for our submissions to the Environmental Science Challenge. We are very pleased that the Mayor of Henley, Michelle Thomas, will present us with the award at the Fair Gallery at 12 midday on the 24th.
We do hope some of our pupils can come with their families to the exhibition to see the work and enjoy the various aspects of the event.