Rupert's Troopers tackle Tough Mudder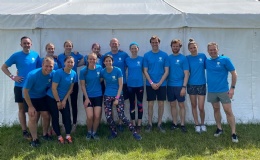 Go Team Rupert House! Well done to everyone - big and small - who took part in the Tough Mudder this weekend.
Mr Armitage and 13 members of the Rupert House parent & staff community took on the 10km challenge at the Culden Faw estate today. It was teamwork all the way with everyone making it round in one piece, with big smiles on their slightly burnt and very muddy faces!