RHS riding team show jumping success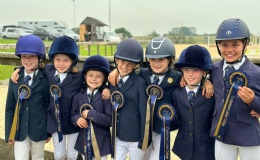 The Rupert House Riding Team did exceptionally well at the NSEA Championships at the weekend.
Saturday marked a fantastic day for the Rupert House Riding Team, with an early start at Rectory Farm in Gloucestershire for the National Schools Equestrian Association (NSEA) show jumping competition.
The riding team now has 10 members, meaning they were able to field teams in the 40cm, 50cm and 60cm classes. Each team did incredibly well, with all teams placing in their classes: 2nd and 3rd in the 40cm, 3rd and 4th in the 50cm and an outstanding 1st in the 60cm.
As a result, Rupert House has qualified for the NSEA Championships which will be held in October. This is an incredible achievement for the team and a testament to their hard work and dedication to their sport.
Some of our team were competing for the very first time. It was a large venue with an equally big atmosphere and lots of spectators.
All the children rode with skill, focus and absolute determination. Excellent individual performances were met with equally enthusiastic support from their teammates. It was wonderful to hear each rider being cheered on! The team spirit was encouraged and supported by smiling Parents, Grandparents and support crew. They were all instrumental in the riders and ponies putting their best hooves forward.
Polly, our team leader, and all the riders went to thank the judges who remarked "You are a credit to your school", which felt like a very fitting way to end what was a wonderful day.
Well done Rupert House Equestrian Team!