Poetry performance winners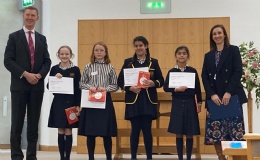 Pupils in Year 5 were the proud winners of the poetry competition at the Pangbourne Poetry Performance Day today.
They performed the poem 'The Mock Turtles Song' by Lewis Carol and won a certificate and poetry book. IT was a super workshop organised by the English Department at Pangbourne College.
Well done everyone!