Picnic concert on the lawn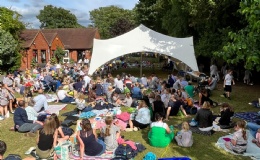 On Wednesday we enjoyed an outdoor concert with performances from pupils across the school.
The children sang and played their musical instruments, providing an afternoon of entertainment for their friends and families who sat with picnics on the lawn.
The afternoon closed with a surprise performance from Mr Armitage, Mr Woodley and Mrs Newman. If you missed it, make sure you find someone who has a video!
Thank you to everyone who came along and to Head of Music, Mrs Breen, for organising the event.