Pavilion little foodies Christmas dinner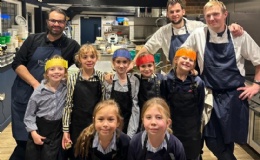 The Prep children who have been taking part in the Pavilion little foodies club on Wednesdays invited their parents and teachers to Pavilion for a festive fun evening this week!
The little chefs cooked a slap-up 3-course meal and then served it up to their guests. The evening consisted of a culmination of everything the children have been learning over the term.
The menu was as follows...
Starter: Pea and mint soup with cheesy dough balls
Main: Christmas chicken dinner with bread sauce, vegetable cheese bake, brussel sprouts and homemade cranberry sauce
Pudding: Apple crumble and mince pies
The children and parents, who were also joined by Mr Armitage and Mrs Newman, had a great time. The children did an amazing job - the food was delicious, the service was great and they all confidently went round asking how the meal was and explaining how they made the dishes.
The event raised a fantastic £250 for the FoRH. What an amazing evening and term they have had!