Nursery's roarsome Dinosaur Week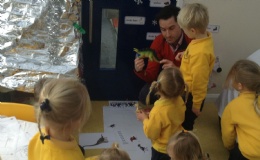 Nursery had a dino-tastic time learning so much about dinosaurs, fossils and how to be a palaeontologist.
To kick off our fun week, Mr Simmons, George's dad helped us to make a giant timeline to help us understand how long ago dinosaurs actually lived. We were so inspired, we went on to make our own fossils and find them in the sand just like palaeontologists. We were also very lucky to find baby dinosaur eggs hiding in the playground! We took very good care of them until they all hatched.