News from the Sports Department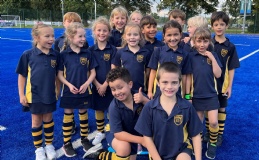 We have played a number of matches recently with some good performances and results.
Hockey Report
We have recently played some Hockey matches with some good performances and results.
Our U8s have played St. Andrew's, Crosfields and Chandlings, and all the teams are currently unbeaten. We had some Player of the Match performances from: Rosie B-C, Josephine W and Charlotte V.
The U9s have also played St. Andrew's and Crosfields, with a mixed set of results. Regardless of the score line the children have all played with great effort and teamwork. Players of the Match: Maia E, Alice R, Molly and Alise B.
The U10s and U11s have both attended the St. Piran's Tournament, and played matches against Chandlings and Cranford House. The U11 A team won their tournament, and we have enjoyed some good results, with our U10 teams all winning their matches convincingly. Some Player of the Match performances came from: Matilda G, Elena T, Fallon K, Seren Q, Piper S and Arabella M.
Football Report
Our U8s have played their first Football matches against St. Andrew's, Daneshill and Crosfields, and have performed well on every occasion. We have secured some good wins and draws, with Player of the Match performances from: Yanis H, Jasper W and Rafe C.
Cross Country Report
Cross Country has started with an RH BANG! On Saturday 1st October, many children attended the first race of the Chiltern Edge Winter Race Series.
Some children in Year 1 and Year 2 represented Rupert House for the first time and they all did so well to complete the challenging course. Sylvia S came 1st in the girls race and Wilbur L finished 3rd in the boys race. Year 3 to Year 6 compete as individuals and as a year group, so we have got off to a great start with so many children contributing to the team score with their efforts. In Year 3, Teddy M was our highest place finisher, in Year 4, Jemima W and Eloise W finished in 1st and 2nd place, Fallon K and Matilda G led the way for Year 5, and our five Year 6 runners all finished in the top 10. Well done to all our children!
We had a fantastic turn out (please keep it up) – the next race is Saturday, 5th November 2022 – 10am start.