Musical extravaganza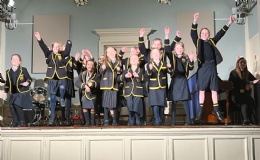 On Tuesday 29th March, parents of the prep school children were treated to a fantastic display of musical talent in our annual Spring Concert at Henley Town Hall.
Soloists, duets and trios, quartets, and groups, performed vocal, guitar, cello, violin, piano, oboe and drumming pieces to an audience of around 300 parents, siblings, teachers and school governors. It was lovely to see such variety in musical tastes and styles.
The concert also included the high-energy, UK and Ireland themed, group songs that the children had previously performed to their peers in the recent House Music contest.
It was a wonderful display of talent, courage and confidence by the children, and a great testimony to the hard work of our dedicated Music department and peripatetic teachers.
All the children should feel so proud of themselves and thank you very much to the parents for coming and watching the concert and being such a good audience!
Looking ahead to next term, we will have a new whole school music event in the diary - Picnic on the Lawn - on Friday 1st July 4-6pm. This will be another chance for the children to perform solos and ensembles they have been working on in their music lessons. More details to follow next term...