Mural update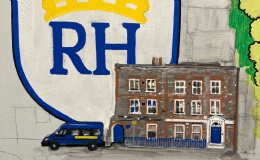 Our new school mural in the entrance hall is underway...
We have commissioned fantastic local artist, and past Rupert House parent, Nicola Sutherland, to create a bespoke mural for our entrance hall. She has mapped out her design on the wall and started painting the road names and some of the detailed features on the map.
The children are enjoying watching her work. They are fascinated and have been stopping throughout the week to ask her questions and input their ideas.
Unfortunately, Nicola tested positive for Covid on 11th February so will resume painting the mural after half term.