Mug shot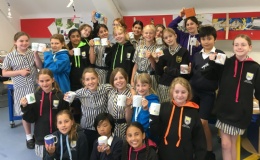 Year 6 designed mugs in their Art lessons this term.
Each design is unique and personal to the individual pupils. Their designs were printed onto ceramic mugs using the school's 3D printer with the help of Mr Whitfield in their DT lessons.
Part of the brief was also to design a box for the mugs which most of the children managed to complete within the project timeframe.
They will be presented with their finished mugs on Speech Day.