Ice creams as promised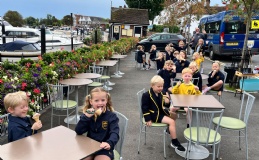 The most coveted prize in our 'auction of promises' last term was a minibus trip to eat ice creams with our much adored caretaker, Mr Woodley.
The end of the summer term was just a little too busy to squeeze the trip in, so the lucky 19 children whose parents submitted the highest bids, finally got to go on their prize adventure this morning!
Accompanied by Mr Woodley, Ms Kneafsey, Mrs Gibson and Ms Ovstedal, the children boarded the school minibuses and headed to the river. There they spent half an hour together in the play park before moving on to The Chocolate Cafe on Thameside where they each chose a scoop of their favourite ice cream. Mint choc chip was definitely the flavour of the day!
With one child exclaiming that 'this is the most fun day... ever', we think we can assume that it was a trip worth waiting for!
We'd like to thank the staff at The Chocolate Theatre Cafe for their expertly fast scooping, and the rain for holding off until we were safely back in school!