House music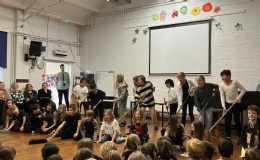 It was wonderful to see so many children taking part in the House Music Festival on Friday 10th February.
All the children played and sang beautifully and it was lovely to meet so many parents when you came into school to watch the classes.
Ms Reineke was thrilled to have been asked to judge the Prep and had a fantastic day with us.
Our overall winners were;
Instrumental; Oscar T
Singing; Charlotte D
Piano; Molly S
The House ensemble competition was great fun too. The Prep children from the four houses sang the following songs:
Sahara: 'This Is Me' from The Greatest Showman
Nile: 'I Just Can't Wait to Be King' from The Lion King
Amazon: Theme song from The Addams Family
Everest: Medley of songs from Annie
Well done to Everest House for winning the House Music cup with their fabulous medley of songs from Annie!