Henley Schools Climate Workshop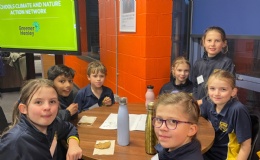 Last week, Mr Armitage and Miss Gibbon, along with Isaac, Bella, Tillie, Scarlett, Alice, Kam and Georgia from Eco Club, attended the first meeting of the Henley Schools Climate Action Group.
They joined a gathering of nearly 100 other teachers and children of all ages from 17 local schools to talk about what we can do as a community to make our schools more sustainable.
With the children brainstorming ideas in one room and the teachers sharing their thoughts in another, it was a great chance to reflect on the different areas of school life and consider how we could be more environmentally conscious. Eco Club were delighted to be part of the workshop and everyone came away with lots of ideas to implement at Rupert House in the future.