Henley Literary Festival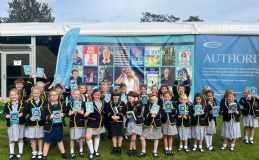 All the children from Reception to Year 6 are heading to the Henley Literary Festival this week to see a variety of authors.
On Monday, it was Year 1's turn. The children enjoyed a session with Karl Newson, who read them two of his books, the first being 'The World At Your Feet' and his new book 'Be You!'. 'Be You!' is about believing in yourself and being whatever you want to be. Karl explained why he loves books so much as inside books there are so many adventures and stories that we can go on. The children are looking forward to his next book, which is about an animal who needs to go to the toilet!
Year 6 were treated to an informative talk by the multi-talented author, actor and more, David Baddiel! He talked about his new selection of short stories, his inspirations for writing and even did a couple of readings from his own books. The children were lucky enough to get a photo with him at the end as a reward for their patience in waiting to have their books signed. The children were very enthusiastic about their books and had to be asked not to read them while walking back to school!
On Tuesday, the Reception children were very excited to meet author and illustrator, Matty Long, at Phyllis Court. He read them an extract from his book 'Who Ate all the Bugs?' and asked the children lots of questions about creepy crawlies. He quizzed them on their knowledge of worms, bees, ladybugs and woodlice and gave them drawing tutorials on each. It was a fun, interactive session!
On Wednesday morning, Year 3 went to Phyllis Court to see Jenny Pearson. They learned all about Jenny's books including, The Incredible Record Smashers, Grandpa Frank's Great Big Bucket List, The Super Miraculous Journey of Freddie Yates and The Boy Who Made Monsters. They took part in a world record and random facts quiz. Jenny spoke passionately about how all her books have an underlying theme of happiness and finished her talk by telling the children to look for the positives every day.
Year 2 had such a wonderful time at the literary festival on Thursday meeting Kate Pankhurst who is an inspirational children's author and illustrator. She has written and illustrated the series 'Fantastically Great Women' and was showing the children her new release called 'We Are All Astronauts'.
It's safe to say Year 2 had a BLAST! They all became illustrators themselves and produced some outstanding pictures of Luna Scope, the little girl in the book who is determined to be an astronaut. They loved asking questions and getting their own space badges by learning all about the animals that went into space and the people who inspired Kate.
Frankie from 2FN showed such courage and went on stage in front of hundreds of children and dressed up as Luna Scope!
Kate's message of the day was to follow your dreams, you can become anything you want, just like the women in her book: Wally Funk who was a member of the all-female team of trainee astronauts in the 1960's and Mary Jackson who was the first black female engineer at NASA.
On Thursday, Year 5 went to see dynamic duo Chris Smith and Greg James, who did a delightfully enjoyable session with lots of acting and flailing, and we even came up with our own superhero story as an audience! The pair read an extract from their new book Super Ghost, which definitely hooked the children with its humour (and included a host of very hilarious voices!).
Finally, Year 4 had a great time at the Literary Festival on Friday. It was a treat to hear the author, Annabel Steadman read sections of 'The Unicorn Thief' to us. We are all hooked and can't wait to read more of the book at home!