Reception's firework display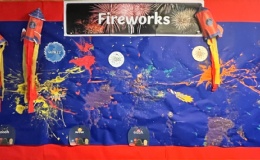 Reception S have been talking about Guy Faulks and bonfire night, and have been busy making a class firework picture this week.
Mrs Stirling and Mrs Steer filled balloons with paint and glitter and the children then popped them using a long tube with pins on the end. They loved seeing the paint splat everywhere - making their pretty, sparkly firework painting come to life!
They then made rockets to add to the sparkly night sky which is now proudly on display on the wall outside their classroom!