End of term festivities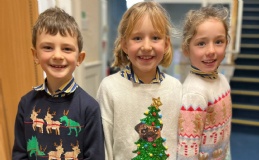 The last two weeks of this Autumn Term have been packed full of activity, most of which has been fabulously festive!
On Tuesday, the Friends of Rupert House put on a wonderful Christmas fair for all the Children to enjoy. The excitement of the little ones meeting Father Christmas was wonderful to see. There were numerous stalls of them to enjoy and there was a festive buzz throughout the school.
The Chamber Choir paid a visit to the residents of Henley Manor Care Home on Wednesday morning to sing carols and Christmas songs which was very well received by them all. Later that day, the Junior Choir went to Children Court Care Home and sang to the residents there. It was lovely to see them all smiling and joining in with the well-known carols.
We had our Christmas lunch on Thursday which was enjoyed by both staff and pupils and was, as always, lots of fun! Thank you to our catering team, Accent Catering, for providing such a delicious menu.
It was also Christmas Jumper Day and the array of different coloured jumpers, from Nursery through to Year 6, gave the school a very merry bright and Christmassy feel!
Final assembly gave us the chance to celebrate the achievements of pupils throughout the school. Congratulations to Nile who won the Work Stars Cup and to Amazon who won the Conduct Stars Cup for the term.
Also, congratulations to Nile, for winning the house stars cup where stars have been awarded to individual pupils for excellent work, then counted to produce a house total.
Finally, the carol concert at St Mary's Church, was a wonderful way to bring the Autumn Term to a close. The children sang and played their instruments beautifully. It was lovely to see so many parents in attendance and also to have the Year 6 parents and families back to school afterwards for mince pies and mulled wine to commemorate their final carol concert at Rupert House.
We hope everyone has a wonderful, restful Christmas and wish you a Happy New Year!