Easter Eggs!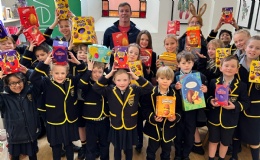 Today we donated 130 chocolate treats to the local NOMAD foodbank!
Thank you to the Friends of Rupert House for organising another fantastic Easter donation to NOMAD foodbank, and to all the families who have been bringing in chocolate eggs and bunnies over the past couple of weeks in the lead-up to Easter.
This is the second year running that the school has donated Easter eggs to NOMAD. The initiative began last year after a pupil asked the Head whether every child receives an egg at Easter time. The school council then decided that children would like to spend their pocket money on buying treats for children less fortunate than themselves with a view to doing something positive for the community.
This year we hoped to beat the number donated last year, and we did so by an extra 22 eggs!
Members of the school's food and student council carried the eggs to the foodbank this morning. The donation was welcomed by Jaco Bruwer who works for NOMAD, a charity that provides vital support to families in need. The Easter eggs will be distributed amongst those who use the food bank's services, bringing some much-needed happiness to children and families in and around Henley.
This is a great example of how small acts of kindness can make a big difference in the lives of others. We are very grateful to all the Rupert House families that donated Easter eggs and are extremely proud of those children who bought them with their own pocket money. This donation is a wonderful example of the positive impact that schools and pupils can have on their communities. It's heart-warming to see young people taking an active role in helping those in need and making a positive difference in the local area.