108 Easter eggs delivered to Henley food bank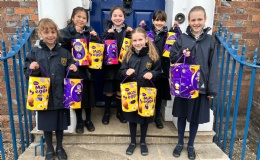 Following an assembly by Sam Brewster from Trinity at Four earlier this term, Rupert House pupils decided that they would like to use their pocket money to buy Easter eggs for children less fortunate than themselves.
We started a collection and, this morning, pupils in our school council took an incredible 108 Easter eggs to the NOMAD foodbank.
Sarah, from the foodbank, said they have over 70 children on their books, so that means all of them should get an Easter treat.
Mr Armitage said "I am very grateful to all the Rupert House families that have donated Easter eggs over the past couple of weeks, and I'm extremely proud of those children who bought them with their own pocket money, in order to help children less fortunate than themselves. The school hopes that these chocolate treats will help brighten up Easter for some families' this year".
Georgia W in Reception S used the money she made from cleaning her mum's car to buy an Easter egg to give to the foodbank!
Thank you to the student council for their efforts in transporting all the eggs from school to the foodbank. This was the first task for the newly elected summer term group.
Also, a huge thank you to everyone who contributed to this incredibly worthwhile local charity.