Spring chicks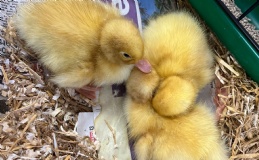 We welcomed three new additions to the Rupert House family last week...
Pupils in pre prep thoroughly enjoyed watching the duck eggs supplied by Incredible Eggs , hatch into three fluffy little duckings.
The ducklings were moved from their incubator to large cage with food, water and a heat lamp and the children from across the school have enjoyed watching and carefully holding them over the past week.
The ducklings have now gone to a farm with a pond, where they will happily grow up together.