Coming Soon to Nursery: The Arctic Corner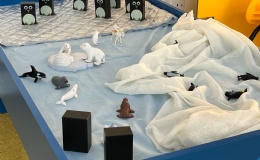 The Nursery children will be learning about the Arctic and Antarctic this term so Mrs Macartney and Miss White have been busy turning one corner of their room into an interactive frozen zone.
There's an arctic research centre complete clipboard and walkie-talkie, a computer, snacks and milk for cups for tea. There's also a frozen land and seascape with penguins, polar bears and marine life and more stations for the children to explore and learn. They have even created an iceberg and there are snowflakes in the sky. The Northern Lights make an appearance too!
The Arctic and Antarctic regions are considered the most incredible, darkest, and iciest areas of the planet, but the similarities end here. The Nursery children will be learning more about how these two vast areas differ in an interactive, fun and exciting way.
Take a look here: