Christmas Windows Winner!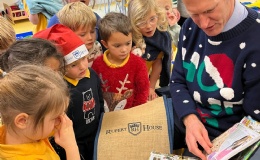 Congratulations to Oscar who is the winner of our Christmas Window Competition!
Oscar was chosen at random from a number of correct entries who all guessed that the theme of our windows was 'Twas the Night Before Christmas. Well done to all those who guessed correctly, and thank you for entering!
Mr Armitage presented Oscar with his prize in his classroom. He and his friends were all very excited to see what he had won!