Celebrating The Queen's Jubilee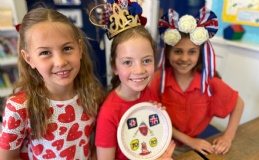 Today we had a whole day of activities to celebrate The Queen's Platinum Jubilee.
Dressed in red, white and blue, and wearing our shiny crowns, we danced, we sang, we baked, we played and we got arty, with each creative activity having a right royal theme!
The picnic lunch on the lawn was a wonderful opportunity for the whole school to get together and enjoy lunch in the sun with friends, before heading off on our half-term holidays.