Celebrating Her Majesty The Queen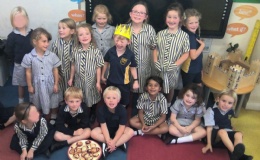 At Rupert House we have been celebrating the life and reign of The Queen in many ways across the school.
Following the death of Queen Elizabeth II, we began last week with a special assembly where Mr Armitage talked to the children about how she lived out our school values of Courage, Creativity, Respect and Resilience. This week, the focus was on courage, and he talked about her bravery as a member of the Auxiliary Territorial Service and her involvement in the second world war. He also talked about how she stepped up to be our Queen at such a very young age and with such little preparation. This will be followed with further assemblies on The Queen and the remaining three values.
In Reception, the children made and sent a card for King Charles III and in Year 1 the children created crowns and each pupil wrote about the Queen's life. They also made some jam tarts for their new King of hearts!
Our new school mural, which forms a huge map of Henley, was completed this week by local artist, Nicola Sutherland. The final, finishing touch, was the addition of the Queen holding the hand of Rupert Bear, and detailed the list of occasions on which the Queen visited Henley during her reign. The children really relate to this as they all fondly remember the sketch she did with Paddington Bear as part of her Platinum Jubilee celebrations. This will be a permanent tribute to the Queen for years to come.