Buzzy bees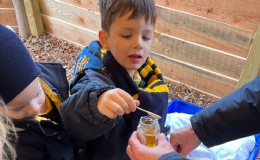 The Nursery children are working on the letter 'b' this week.
Today, they went to forest school to learn all about bees from a local beekeeper 🐝
They found out about pollen and how the bees use it to make honey. They touched some honeycomb and were amazed by the perfectly formed hexagons.
The best bit was trying on the beekeeper suits and tasting some yummy honey!