Brass masterclass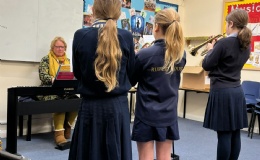 This morning we welcomed Gill Waters, a brass and woodwind specialist, to Rupert House to treat three of our brass instrumentalists pupils to a masterclass.
Gill has a wealth of teaching experience and has taught in both the state and Independent sectors, and has prepared many pupils for music scholarships to top independent senior schools.
She spent an hour with the children, coaching, introducing them to new pieces of music and encouraging them to play both individually as an ensemble.
Gill said "The girls were amazing. They were very responsive and I thoroughly enjoyed working with them. I hope to come back and work with them again soon".