Aladdin comes to Rupert House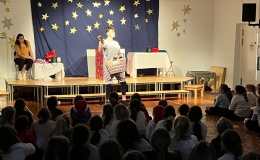 On the penultimate day of the Autumn Term, the children were treated to a pantomime in the school hall.
Thank you to Stage-Ed who came and performed their own amusing, musical version of Aladdin, firstly to the Pre-Prep, followed by a second show to the Prep pupils.
Also, a huge thank you to Emma from Sage & Squash who supplied the aftershow ice creams. The flavours, chosen by the school food council, were mango sorbet, vanilla and cookie & cream (with a choice of topping including sprinkles, crunchie pieces, marshmallow or chocolate sauce) - a real treat!