Act of Remembrance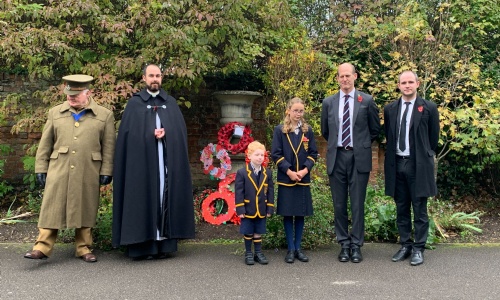 On Thursday morning, we welcomed families from across the Rupert House community to join us for our annual Act of Remembrance.
Mr Armitage, who led the service, was joined by Father Jeremy and local historian, Mike Willoughby. Evie, this term's Head of School, introduced the service. She was followed by Annabel who gave a reading and Chloe J who recited the poem 'For the Fallen'.
Andy Cogden played The Last Post on his trumpet, ahead of the two-minute silence at 11am. The end of the period of silence was then marked with a rendition of 'Reville'.
Year 6 pupil, Catherine, concluded the service with her recital of 'In Flanders Fields' before Father Jeremy gave a final prayer.
Together, the Head of School and a pupil in Reception walked to our garden of Remembrance to lay the main wreath. They were followed by representatives from each of the classes who had all made their own wreaths from a variety of different materials.
Nick Armitage, Head of Rupert House, commented: "On Monday in our assembly, we heard from Lt Col Richard North from the Army Reserves who spoke of his experiences, serving in Iraq and the important role the army plays in keeping the peace and avoiding conflict wherever possible.
"Today, we have remembered those in the two World Wars, and since, who have made the ultimate sacrifice for our freedom. I am immensely proud of all our pupils who behaved so well, given the solemnity of the occasion. I am very grateful to Father Jeremy, Andy Cogden and Mike Willoughby for their contributions to our Act of Remembrance.
"This theme will continue next term when Mr Willoughby comes to talk to our Year 6 pupils about what it would have been like to serve on the front line in the first World War. He will bring uniform and kit to bring to life the to the children the experiences of the British soldiers."
In Flanders Fields by John Mccrae
In Flanders fields the poppies blow
Between the crosses, row on row,
That mark our place; and in the sky
The larks, still bravely singing, fly
Scarce heard amid the guns below.
We are the Dead. Short days ago
We lived, felt dawn, saw sunset glow,
Loved and were loved, and now we lie,
In Flanders fields.
Take up our quarrel with the foe:
To you from failing hands we throw
The torch; be yours to hold it high.
If ye break faith with us who die
We shall not sleep, though poppies grow
In Flanders fields.