Rupert House is...for life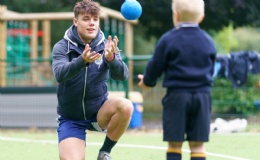 Many former students, parents, and staff members consider their time at Rupert House to be among the best of their lives.
Our small class sizes and strong sense of community enable pupils to make strong friendships. Friendships that, in many cases, last forever and when children leave the school at the end of Year 6, they take with them precious memories that will last a lifetime.
We have many members of staff that have been with us for a number of years. Mrs Newman, our Deputy Head Pastoral, has been at the school for 22 years and our longest serving member of staff is Mrs Burns, a Teaching Assistant, who has been with us for 25 years. Both have now taught more than one generation of the same family!
Many families move back to Henley and the surrounding areas from London and further afield, with parents who themselves came to Rupert House, and want the same for their children.
Former pupils, families and staff are keen to stay in touch with the school and to hear about developments, as well as being willing to offer their expertise and inspiration for the benefit of future generations of Rupert House pupils.
We are currently in the process of setting up a Rupert House Alumni group. If you're a past Rupert House teacher, pupil, parent or grandparent, and are interested in joining the RHS alumni, please get in touch with us at alumni@ruperthouse.oxon.sch.uk
We'd love to hear from you!