Rupert House is...a family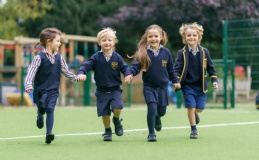 We welcome children from the age of 3 into the Nursery at Rupert House, where they learn and develop through play in a happy, safe and exciting environment.
Our experienced pre-prep staff foster a family atmosphere encouraging creativity, thoughtfulness and kindness to others to give children a positive, enjoyable and memorable start to their learning journey and each child is allowed to develop at his or her own pace.
Throughout the school, small class sizes enable everyone to form strong friendships, both within their forms, and across the other year groups. The older children spend time reading with the younger children, and the Year 6 pupils have dedicated roles, working within the pre-prep classrooms on a regular basis.
The staff know every pupil by name, and children feel comfortable being themselves whilst all the time gaining confidence as they travel through the school.
Parents of the pre-prep children are welcomed into the school building each morning as they drop off their children and all parents have the opportunity to meet staff and governors at various points throughout each school year – whether at organised social events or at parent meetings.
Our parent body, the Friends of Rupert House, are a huge asset to the school. They welcome new families, connecting them with current pupils and their parents, and organise numerous social events throughout the school year.
Rupert House friends become lifelong friends and that's not just the pupils, it's the parents too!
To find out more about our happy and high-achieving school, and how your child could benefit from a Rupert House education, please call us on 01491 574263 or email admissions@ruperthouse.oxon.sch.uk