Rupert House is...creative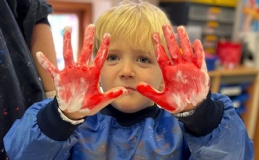 From art to design technology and music to performing arts, creativity is central to life at Rupert House, and one of our four key values.
Performance plays a major role in the curriculum and we are very proud of our music and performing arts offering. In addition to our annual Pre-Prep productions, we put on a Prep School production each year in the Kenton Theatre, on the professional stage. We also offer Dramaworks as an extra-curricular option, where pupils work towards their LAMDA qualifications. Last year, all 41 pupils who took the exams achieved a distinction - a record result.
We aim to inspire and enthuse all children to enjoy music and we passionately believe in the power of music and performing arts to build confidence, teamwork and communication skills. We offer a comprehensive range of opportunities for children to learn an instrument, sing, dance and perform, including taking part in the fabulous Spring Concert in the Town Hall.
We have a specialist art teacher and art room here at Rupert House and the children enjoy creating, and learning about art from the moment they step through the Big Blue Door. From Year 3 onwards, pupils enjoy informative cookery lessons and inspiring lessons with our specialist DT teacher in our dedicated DT room
A number of our children leave Rupert House having secured scholarships for art, music and drama at their chosen senior school and are inspired to continue developing their skills to an extremely high standard. In 2021, seven awards and scholarships in music and drama were awarded to the Year 6 pupils.
To find out more about our exciting teaching and learning environment, and how your child could benefit from a Rupert House education, please call us on 01491 574263 or email admissions@ruperthouse.oxon.sch.uk