Rupert House is...happy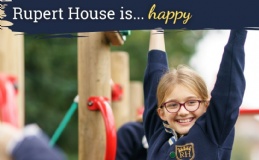 A Rupert House education coincides for many children, parents and staff with some of the happiest times of their life.
Learning at Rupert House is active and fun and our dedicated team of experienced and qualified staff work closely with parents to ensure that each child feels secure, confident and happy.
We have a student council and student food council, both of which enable the children to have their voices heard, to represent their peers and ultimately influence certain decisions made within the school.
Children at Rupert House smile… a lot! They enjoy coming to school every day and form fantastic friendships that last a lifetime.
Here's what some of our parents have to say about their experience with Rupert House...
"We are extremely pleased our son joined Rupert House after returning to the UK following several years abroad. He has thoroughly enjoyed his time at RH, the teachers and children made him feel welcome from his very first day. We have found the culture at the school to be inclusive, kind, ambitious, and happy, which he would not have experienced in an all-boys school."
"My daughter is so happy at Rupert House, she loves going to school every day. I've watched her grow and thrive whilst there and feel so proud and fortunate to be part of such a fantastic school."
"The atmosphere is happy, friendly and conscientious."
To find out more about our exciting teaching and learning environment, and how your child could benefit from a Rupert House education, please call us on 01491 574263 or email admissions@ruperthouse.oxon.sch