Rupert House is...co-educational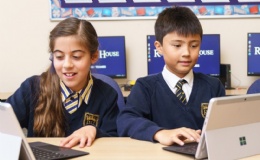 Rupert House is a happy and high-achieving independent prep school for boys and girls aged 3 to 11 years.
Typically, children enter our Nursery aged 3 or at the natural entry point of Reception at aged 4 and then continue through the school to the end of Year 6 when they progress onto their senior school of choice. Should space allow, we do, however, accept children throughout other year groups so it is always worth checking with our Registrar.
Our belief is that an inclusive environment is integral to a child's social and behavioural development and that all children can contribute positively to life and lessons at Rupert House. Developing self-esteem, encouraging healthy competition and developing mutual respect are just a few of the many benefits of a co-education system.
From Year 3 onwards, pupils are taught by specialist subject teachers in Music, Art, Science, Languages and Sport. Most recently, we have extended our creative offering with the creation of a dedicated DT workshop and teacher. Our expert coaches teach a wide variety of sports including tennis, gymnastics, hockey, rugby and cricket, putting us in a strong position to deliver a fully co-ed sports curriculum and our pupils enjoy regular fixtures against other local schools with mixed teams and abilities. In addition, the close relationships we enjoy with Henley Rugby Club, Henley Cricket Club and Henley Leisure Centre enable us to extend our facilities beyond those of our immediate grounds, playing fields and Forest School.
Our extra-curricular school clubs provide something for everyone. They include tennis, football, rugby, netball, hockey, breakdancing, athletics, jazz dance, ballet, gymnastics, animation, drama, drumming and climate change.
To find out more about our exciting teaching and learning environment, and how your child could benefit from a Rupert House education, please call us on 01491 574263 or email office@ruperthouse.oxon.sch.uk