9th June 2023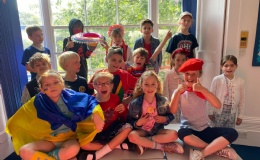 It has been wonderful to welcome so many parents and grandparents into school this week to hear them talk about the countries they originate from or have a specific interest in, as part of our International Week.
The children have enjoyed immersing themselves in numerous different cultures whether through eating traditional foods, speaking to children across the world, or wearing national dress. The Nursery children and I even had the opportunity to sit on a high-powered motorbike thanks to Mr Barrier, who has raced professionally around the world! A huge thank you to everyone who has contributed this week – it is very much appreciated by us all.
It was lovely to run down by the River this morning with Running Club and it was already warm at that time in the morning. I am amazed at how fit the children are, given that we ran a couple of miles at least, and it was wonderful to even have some Pre-Prep children join us with their parents.
Please do remind your children to bring their water bottles to school and in this warmer weather, to put on suncream beforehand and to have a cap with them.
Show & Tell sessions
It was also lovely to welcome so many parents into school for our Year 1 and 2 Show and Tell sessions. I hope you enjoyed seeing your children's classrooms and some of the marvellous work they have produced this term, which they are very proud of. Please do make a note of the upcoming sessions for other year groups and your children would love to welcome you if you are able to attend.
Year 5 Assessments
Well done to the Year 5 pupils who took on their internal assessments with great maturity this week. It is an important experience for them as we prepare them for their Senior School entrance assessments in Year 6. I have no doubt that they will be every bit as successful as our current Year 6 cohort, who have all impressed hugely from an academic perspective, including 4 academic scholarships and all-round, with a number of drama, sport, music and art scholarships also awarded.
Henley's Great Big Green Week
6P's entry into the Henley Schools Environmental Science Challenge will be on display in the Town Hall tomorrow (Saturday 10th June) as part of Henley's Great Big Green Week which runs from 10th to 18th June. You can find out more about it here.
Upcoming events including Sports Day
I hope many of you will be able to come along to Sports Day on Friday from 9am to 12pm as it is always such a fun event. Don't forget to bring a picnic to enjoy with your children and friends on the field afterwards!
Best of luck to the Rupert House Riding Team who are competing for the first time at the National Schools' Equestrian Association competition tomorrow. I hope all those who are taking part in the Little Welly on Sunday have great fun and I will look out for you around the course!
Have a lovely weekend in the sunshine!
With best wishes,
Nick Armitage