3rd March 2023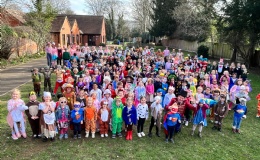 There was much excitement around the school this week in the lead up to World Book Day, with considerable time and effort having gone into the thought around the costumes the children and staff would wear.
The staff and children thoroughly enjoyed dressing up for the occasion, myself included! The school was a sea of colour and smiles - as you can see here in our whole school photo! We enjoyed many WBD activities, including the visit of the author and illustrator Hannah Peck and even a delicious story-themed menu for the day. You can read more about it and see many photographs in the news section below.
We were also visited by Muddy Stilettos who are writing a review of the school, which we hope you be able to share with you in a couple of weeks, and by Diana Barrett from Greener Henley who came in to talk to the children about the 2023 environmental science challenge. We had the Year 6 auditions for Oliver, an exciting trip to Brighton Sealife Centre for Year 2 and Year 6 went to the Old Fire Station Gallery in Henley for a Reading Blue Coat Art Showcase workshop. Throw in several sports fixtures across the prep school, and we've had another busy week here at Rupert House!
England Rugby Match Tickets
I mentioned in the newsletter before half term that we have kindly been given some tickets to the England vs France U20 Six Nations Match on Friday 10th March at The Recreation Ground in Bath, kicking off at 8pm. We are hoping that Mr McArthur's son, Archie, will be playing, and it would be great to have a crowd to cheer him on! If you would like to attend with your child/children, please email Penny in the school office. Tickets will be allocated on a first-come, first-served basis. I shall be driving a minibus there so transport will be provided if there are enough takers!
Photographer
We have a photographer coming into school on Tuesday 7th March to take promotional photos around the school. Please can you make sure your child(ren) has the correct uniform wherever possible, including blazers. The Nursery children are due to go to Forest School in the afternoon so please make sure they have appropriate clothing to keep them warm.
Easter Eggstravaganza
Due to the number of FORH activities that have taken place recently, the decision has been made not to have the Eggstravaganza on 24th April. Instead, the focus for Easter will be on giving back to the community, with donations being made to NOMAD and a smaller event will be held in school instead – there will be more information to follow soon.
Match teas
The catering team produce delicious match teas for parents consisting of home-baked items as well and teas and coffees at all home matches on our pitches and at our netball courts. Please do pop into the sports pavilion to take advantage of this offering if you are there to support your child.
HYF Run
Tomorrow morning marks the start of the Henley Youth Festival with the run taking place at Henley Rugby Club. Good luck to all those who have entered. I hope to be there to cheer you on!
Congratulations to the runners who represented Rupert House at the Chiltern Edge cross-country series this season. Everyone did such a fantastic job and as a result, Rupert House came 2nd place overall, with our Year 4 girls crowned County Champions! There is more information on this is in the sports report below.
The children are all very excited about the Neon Disco this evening and many thanks to those parents who have so kindly organised the event. My youngest daughter made me promise that I will not take to the dance floor myself, but I am sure the children will have a wonderful time!
Best wishes,
Nick Armitage